First time here?

Join our mailing list below to get 10% off on your 1st order!
Classic Essentials
4 way stretch, soft to the touch and sweat-wicking.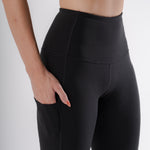 Functional Side Pockets
Deep pocketed leggings that can be worn anywhere from the gym to brunch spots, airport and you name it! 
Back Clasp
Your achy arms post workout just met her best friend!
These clasps are made for easy wearing and removal of the bra.
No more struggling dressing for your workouts and before your showers!